Guohui Wang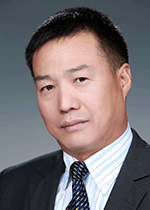 Pacific Northwest National Laboratory
PO Box 999
Richland, WA 99352
Send Email
Biography
Guohui Wang has over 20 years of experience in environmental hydrogeochemistry. His research goal is to understand the geochemical processes which control the fate and transport of contaminants in soils/sediments and groundwater, thus to develop related remediation and waste disposal technologies. Since joining PNNL in 2010, his work has focused primarily on waste stream radionuclide treatment by waste forms and iron spinel, subsurface transport and in situ contaminants remediation technology, gas phase transport in porous media, as well as impacts of CO2 sequestration on groundwater quality.
Research Interests
sorption/desorption, abiotic degradation, diffusion transport of radionuclides and organic contaminants in the subsurface;
redox and radioactive waste sequestration in iron oxide minerals;
development and performance assessment of low-level radioactive waste forms; in situ contaminants immobilization and remediation technique development;
mineral dissolution/co-precipitation/transformation processes and spectroscopy techniques (XRD, SEM/FIB-TEM/EDS, XPS, XAFS, XMT) for mineral and pore structure characterization;
reactive transport of noble gas and VOCs in porous media; CO2 intrusion impacts on geochemistry of aquifers;
partitioning of oil contaminants between crude oil/water/CO2 phases, and physicochemical characterization of aquifer heterogeneity.
Education and Credentials
Ph.D., Environmental Hydrogeochemistry, University of Tübingen, Germany
M.S., Tropical Hydrogeology, University of Tübingen, Germany
M.S. & B.S., Quaternary Geology & Geography, Shaanxi Normal University, China
PNNL Publications
2018
Luksic S.A., D. Kim, W. Um, G. Wang, M.J. Schweiger, C.Z. Soderquist, and W.W. Lukens, et al. 2018. "Effect of Technetium-99 Sources on Its Retention in Low Activity Waste Glass." Journal of Nuclear Materials 503. PNNL-SA-125641. doi:10.1016/j.jnucmat.2018.02.019
Perdrial N., A. Vazquez-Ortega, G. Wang, M. Kanematsu, K.T. Mueller, W. Um, and C.I. Steefel, et al. 2018. "Uranium speciation in acid waste-weathered sediments: The role of aging and phosphate amendments." Applied Geochemistry 89. PNNL-SA-133858. doi:10.1016/j.apgeochem.2017.12.001
Rod K.A., W. Um, J. Chun, N. Wu, X. Yin, G. Wang, and K. Neeves. 2018. "Effect of Chemical and Physical Heterogeneities on Colloid-Facilitated Cesium Transport." Journal of Contaminant Hydrology 213, no. June 2018:22-27. PNNL-SA-133847. doi:10.1016/j.jconhyd.2018.03.012
Szecsody J.E., C.I. Pearce, K.J. Cantrell, N. Qafoku, G. Wang, E.C. Gillispie, and A.R. Lawter, et al. 2018. Evaluation of Remediation Technologies for Iodine-129: FY18 Bench Scale Results. PNNL-28064. Richland, WA: Pacific Northwest National Laboratory. Evaluation of Remediation Technologies for Iodine-129: FY18 Bench Scale Results
2017
Saslow S.A., W. Um, R.L. Russell, G. Wang, R.M. Asmussen, and R. Sahajpal. 2017. Updated Liquid Secondary Waste Grout Formulation and Preliminary Waste Form Qualification. PNNL-26443; RPT-SWCS-009 Rev 0. Richland, WA: Pacific Northwest National Laboratory. Updated Liquid Secondary Waste Grout Formulation and Preliminary Waste Form Qualification
Strickland C.E., A.R. Lawter, N. Qafoku, J.E. Szecsody, M.J. Truex, and G. Wang. 2017. Evaluation of Iodine Remediation Technologies in Subsurface Sediments: Interim Status Report. PNNL-26957. Richland, WA: Pacific Northwest National Laboratory. Evaluation of Iodine Remediation Technologies in Subsurface Sediments: Interim Status Report
Um W., S.A. Luksic, G. Wang, S.A. Saslow, D. Kim, M.J. Schweiger, and C.Z. Soderquist, et al. 2017. "Enhanced 99Tc Retention in Glass Waste Form using Tc(IV)-Incorporated." Journal of Nuclear Materials 495, no. C:455-462. PNNL-SA-123344. doi:10.1016/j.jnucmat.2017.09.007
2016
Lee M., W. Um, G. Wang, A.A. Kruger, W.W. Lukens, R.J. Rousseau, and V.A. Glezakou. 2016. "Impeding 99Tc(IV) mobility in novel waste forms." Nature Communications 7. PNNL-SA-114552. doi:10.1038/ncomms12067
Serne R.J., D.C. Lanigan, J.H. Westsik, B.D. Williams, H.B. Jung, and G. Wang. 2016. Extended Leach Testing of Simulated LAW Cast Stone Monoliths. PNNL-24297 Rev 1. Richland, WA: Pacific Northwest National Laboratory. Extended Leach Testing of Simulated LAW Cast Stone Monoliths
Um W., M. Snyder, and G. Wang. 2016. Liquid Secondary Waste Grout Formulation and Waste Form Qualification. PNNL-25129;RPT-SWCS-005, REV0. Richland, WA: Pacific Northwest National Laboratory. Liquid Secondary Waste Grout Formulation and Waste Form Qualification
2015
Cantrell K.J., M. Snyder, G. Wang, and E.C. Buck. 2015. Contaminant Leach Testing of Hanford Tank 241-C-104 Residual Waste. PNNL-24383. Richland, WA: Pacific Northwest National Laboratory. Contaminant Leach Testing of Hanford Tank 241-C-104 Residual Waste
Lawter A.R., N. Qafoku, G. Wang, H. Shao, and C.F. Brown. 2015. "Evaluating Impacts of CO2 Intrusion into an Unconsolidated Aquifer: I. Experimental Data." International Journal of Greenhouse Gas Control 44, no. 2016:323-333. PNNL-SA-107057. doi:10.1016/j.ijggc.2015.07.009
Serne R.J., J.H. Westsik, B.D. Williams, H.B. Jung, and G. Wang. 2015. Extended Leach Testing of Simulated LAW Cast Stone Monoliths. PNNL-24297. Richland, WA: Pacific Northwest National Laboratory. Extended Leach Testing of Simulated LAW Cast Stone Monoliths
Um W., S.A. Luksic, G. Wang, D. Kim, M.J. Schweiger, P.R. Hrma, and A.A. Kruger. 2015. "Development of Tc(IV)-Incorporated Fe Minerals to Enhance 99Tc Retention in Glass Waste Form." In Annual Waste Mangement Symposium (WM2015), March 15 - 19, 2015, Phoenix, Arizona, 7, 5451-5457. Tucson, Arizona:Waste Mangement Symposia, Inc. PNNL-SA-106483.
Wang G., N. Qafoku, A.R. Lawter, M.E. Bowden, O. Harvey, E.C. Sullivan, and C.F. Brown. 2015. "Geochemical Impacts of Leaking CO2 from Subsurface Storage Reservoirs to an Unconfined Oxidizing Carbonate Aquifer." International Journal of Greenhouse Gas Control 44, no. 2016:310-322. PNNL-SA-96349. doi:10.1016/j.ijggc.2015.07.002
Yabusaki S.B., R.J. Serne, M.L. Rockhold, G. Wang, and J.H. Westsik. 2015. Technical Approach for Determining Key Parameters Needed for Modeling the Performance of Cast Stone for the Integrated Disposal Facility Performance Assessment. PNNL-24022. Richland, WA: Pacific Northwest National Laboratory. Technical Approach for Determining Key Parameters Needed for Modeling the Performance of Cast Stone for the Integrated Disposal Facility Performance Assessment
Zheng L., N. Qafoku, A.R. Lawter, G. Wang, H. Shao, and C.F. Brown. 2015. "Evaluating Impacts of CO2 Intrusion into an Unconsolidated Aquifer: II. Modeling Results." International Journal of Greenhouse Gas Control 44, no. 2016:300-309. PNNL-SA-106872. doi:10.1016/j.ijggc.2015.07.001
2014
Chung C., J. Chun, G. Wang, and W. Um. 2014. "Effects of Iron Oxides on the Rheological Properties of Cementitious Slurry." Colloids and Surfaces. A, Physicochemical and Engineering Aspects 453. PNNL-SA-102019. doi:10.1016/j.colsurfa.2014.03.072
2013
Qafoku N., C.F. Brown, G. Wang, E.C. Sullivan, A.R. Lawter, O.R. Harvey, and M. Bowden. 2013. Geochemical Impacts of Leaking CO2 from Subsurface Storage Reservoirs to Unconfined and Confined Aquifers. PNNL-22420. Richland, WA: Pacific Northwest National Laboratory. Geochemical Impacts of Leaking CO2 from Subsurface Storage Reservoirs to Unconfined and Confined Aquifers
Um W., G. Wang, and R.J. Serne. 2013. "The Effects of Secondary Mineral Precipitates on 90Sr Mobility at the Hanford Site, USA." Procedia Earth and Planetary Science 7. PNNL-SA-100623. doi:10.1016/j.proeps.2013.03.032
Um W., G. Wang, H. Jung, and R.A. Peterson. 2013. Technetium Removal Using Tc-Goethite Coprecipitation. PNNL-22967; EMSP-RPT-017. Richland, WA: Pacific Northwest National Laboratory. Technetium Removal Using Tc-Goethite Coprecipitation
Um W., H. Jung, G. Wang, J.H. Westsik, and R.A. Peterson. 2013. Characterization of Technetium Speciation in Cast Stone. PNNL-22977; EMSP-RPT-015. Richland, WA: Pacific Northwest National Laboratory. Characterization of Technetium Speciation in Cast Stone
Wang G., and W. Um. 2013. "Facilitated Strontium Transport by Remobilization of Strontium-Containing Secondary Precipitates in Hanford Site Subsurface." Journal of Hazardous Materials 248-249. PNNL-SA-93191. doi:10.1016/j.jhazmat.2013.01.021
2012
Wang G., and W. Um. 2012. "Mineral Dissolution and Secondary Precipitation on Quartz Sand in Simulated Hanford Tank Solutions Affecting Subsurface Porosity." Journal of Hydrology 472-473. PNNL-SA-90409. doi:10.1016/j.jhydrol.2012.09.021
Wang G., R.J. Serne, M.J. Lindberg, W. Um, B.N. Bjornstad, B.D. Williams, and I.V. Kutynakov, et al. 2012. Uranium in Hanford Site 300 Area: Extraction Data on Borehole Sediments. PNNL-22032. Richland, WA: Pacific Northwest National Laboratory. Uranium in Hanford Site 300 Area: Extraction Data on Borehole Sediments
2011
Hess N.J., M. Oostrom, M.A. Celia, M. Hilpert, Q. Kang, L.J. Pyrak-Nolte, and T.D. Scheibe, et al. 2011. EMSL Pore Scale Modeling Challenge/Workshop. PNNL-21086. Richland, WA: Pacific Northwest National Laboratory. EMSL Pore Scale Modeling Challenge/Workshop
Um W., M.M. Valenta, C. Chung, J. Yang, M.H. Engelhard, R.J. Serne, and K.E. Parker, et al. 2011. Radionuclide Retention Mechanisms in Secondary Waste-Form Testing: Phase II. PNNL-20753. Richland, WA: Pacific Northwest National Laboratory. Radionuclide Retention Mechanisms in Secondary Waste-Form Testing: Phase II