Benjamin Roberts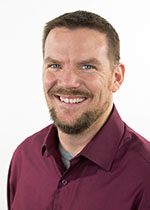 Pacific Northwest National Laboratory
PO Box 999
Richland, WA 99352
Send Email
Biography
Ben Roberts started with PNNL's Hydrocarbon Processing Group in 2002. He has been involved in all aspects of research including component design and fabrication, system integration and construction, as well as operations management. His primary focus has been in the design and development of data acquisition and control systems to safely monitor and automate a wide variety of chemical and industrial processes. In 2007 Ben helped launch the Microproducts Breakthrough Institute in Corvallis, Oregon and in 2014 he designed and facilitated construction of a small pilot plant system in Pittsburgh, Pennsylvania built to demonstrate technologies that were developed and patented at PNNL.
PNNL Patents
U.S. Patent No. 10,059,890, August 28, 2018, "Methods and Systems for Acoustically-Assisted Hydroprocessing at Low Pressure ".
U.S. Patent No. 9,862,892, January 9, 2018, "Heavy Fossil Hydrocarbon Conversion and Upgrading Using Radio-Frequency or Microwave Energy".
Research Interests
Waste Heat Recovery Systems
Alternative Fuels Synthesis
Fuel Cells and Power Generation
Process Intensification
Systems Automation and Controls
LabVIEW programming and data acquisition
SolidWorks Design
PNNL Publications
2018
2012
Karim A.M., C.J. Howard, B.Q. Roberts, L. Kovarik, L. Zhang, D.L. King, and Y. Wang. 2012. "In Situ X-ray Absorption Fine Structure Studies on the Effect of pH on Pt Electronic Density during Aqueous Phase Reforming of Glycerol." ACS Catalysis 2, no. 11:2387-2394. PNNL-SA-89904. doi:10.1021/cs3005049
2008
Hu J., R.A. Dagle, B.R. Johnson, H.W. Kreuzer, D.J. Gaspar, B.Q. Roberts, and M.L. Alexander. 2008. "Development of a Micropyrolyzer for Enhanced Isotope Ratio Measurement." Industrial and Engineering Chemistry Research 47, no. 22:8625-8630. PNNL-SA-60695. doi:10.1021/ie8009236
Huang X., D.A. King, F. Zheng, V.S. Stenkamp, W.E. TeGrotenhuis, B.Q. Roberts, and D.L. King. 2008. "Hydrodesulfurization of JP-8 Fuel and its Microchannel Distillate Using Steam Reformate." Catalysis Today 136, no. 3-4:291-300. PNWD-SA-8059. doi:10.1016/j.cattod.2008.01.011